Celebrate Spring with flowers – especially these beauties!  Gorgeous enamel using a light-transmitting design, these delicate stained-glass style earrings are a charming complement to any outfit or occasion.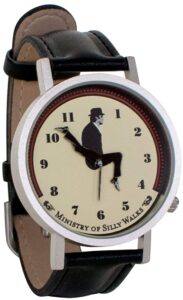 OK, Boomer here… And if we know anything – it's absolutely ridiculous and slightly (maybe more?) stupid Monty Python schticks… Now get off our lawn!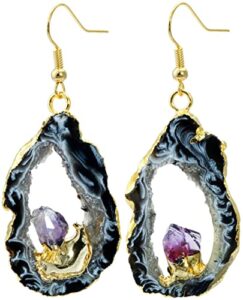 When jewelry artists work with nature – you hope for spectacular. With geodes and amethysts – you got just what you hoped for! Sliced geodes from Brazil are not as heavy on the ears as you might think, and they are suitable for many occasions – so dress up or go casual and get those compliments!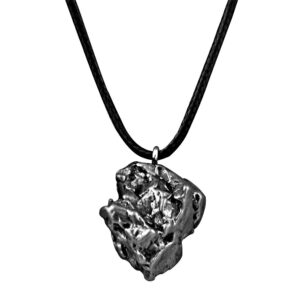 A little gift from the Universe for your favorite guy or gal (or space enthusiast). Certified nugget from the Campo Del Cielo meteorite comes on a braided leather "chain" and packed in a wooden treasure chest gift box, complementing a wonderful gift that is 4000 years in the making. Large enough to be noticed but not at all gaudy!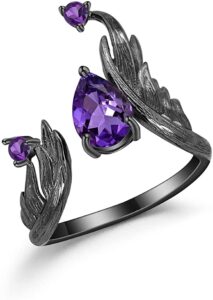 Always on the lookout for unique and amazing – and this ring hits all targets. Genuine Amethyst set in Sterling Silver plated in rhodium, adjustable for most finger sizes and the darker metal color adds a touch of mystery. Wear these wings proudly as the perfect accessory to your sexy little black dress.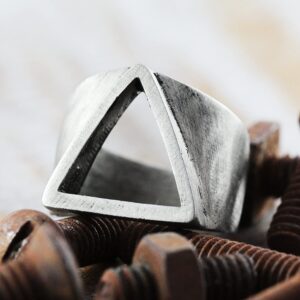 Handsome, masculine and very unique – not too many guy rings are so bold. It's definitely a statement piece without being gaudy. Silver and metal alloy – oxidized for an antique look – that you can have engraved to make it even more of a standout gift.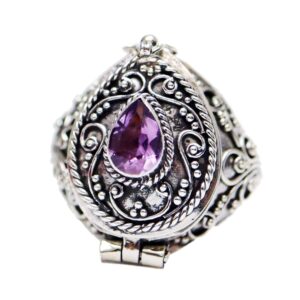 Here's a throwback to the bad old days when evil women would hide a little something in their rings to slip someone a mickey. Once called a poison ring – for our purpose, we'll call it a locket ring. Sterling silver and amethyst adds a touch of beauty to its mystique!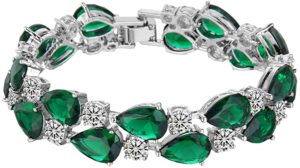 We haven't offered much in the way of bracelets yet – so our pieces need to be a combination of unique, bold and visually stunning. NAILED IT! A vintage style piece that demands attention and comes in a array of colors to match your outfit or mood – it will whisk you back to the days of glamour and enchantment.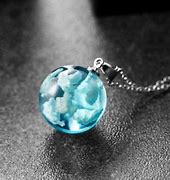 You promised her the moon and the stars – but sometimes you gotta start small. This small patch of blue sky and fluffy clouds can help her weather any storms that come along, whether she's 8 or 68.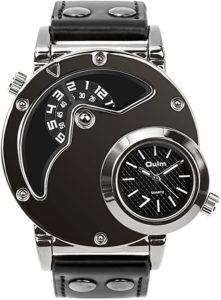 If we have learned anything lately, it is Have a Good-Backup (toilet paper for example)! Cell phone battery dies and you don't know what the time even is? Here's your backup – a what a backup! Stylish, accurate and with dual dials, you can know the time in two different time zones – or just the same time two different ways. Fashionable and inexpensive – it's a cool, functional accessory.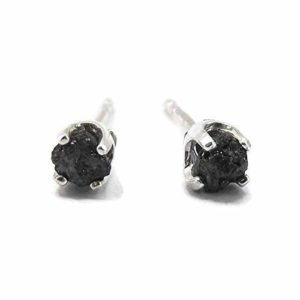 You can now wear diamonds for even the most casual occasion – as well as the more formal ones – without breaking the bank.  Simple Sterling Silver posts and rough, black diamonds are chic, unique and will soon be your new go-to piece.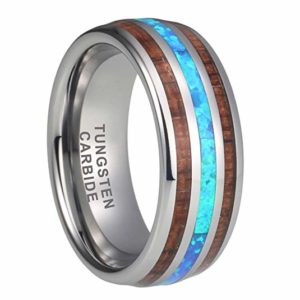 Women aren't the only ones who love shiny objects – and this ring has the right balance of shiny and masculine. Crushed blue opals accent the Hawaiian Koa wood on Tungsten Carbide, which equals superb quality and beauty. Not only is the ring superb, customer service guarantees 100% satisfaction. This ring fits all occasions – so find an occasion to give him this stunner!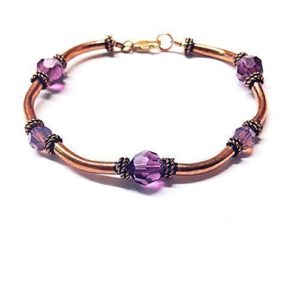 Lovers of shiny objects are gonna love this beauty.  Copper bars and amethyst-colored Swarovski crystals add an elegant and colorful touch to your occasions and attire. This hand-created bracelet also makes a wonderful anniversary gift – Crystal is for the 3rd and 15th year, and Copper is for #7 and #22. (But you don't have to wait to show off your great taste in gifts!)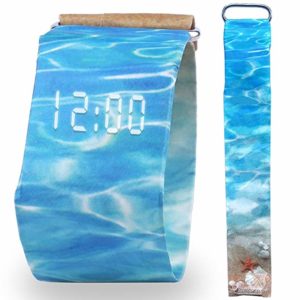 Unique, lightweight watch for whatever mood you're in – many styles to choose from! Made from ultra-strong paper, with a magnetic "clasp" – it's waterproof and resistant to tearing and scratching. Perfect for everyone in family – even the little goofs. Comes in a decorative "book" gift box.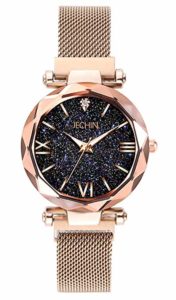 Affordable elegance is just a slap on the wrist. Beveled frame adds flash to this starry-faced quartz movement beauty who's band is magnetized – so all you have to do is wrap it around your wrist and it snaps shut (no adjustments of clasps)!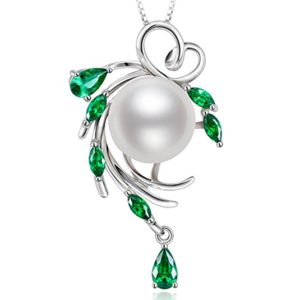 A freshwater cultured pearl  + green cubic zirconia + a sterling silver chain = a sparkly, sensational accent to your wardrobe.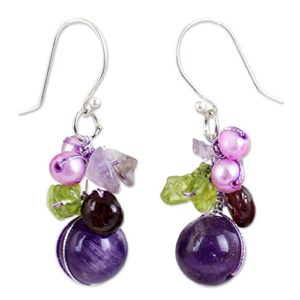 Raise the bar for unique and beautiful with a bouquet of gems. Amethyst, Garnet and Pearls will set off the color of any outfit and will draw in the compliments!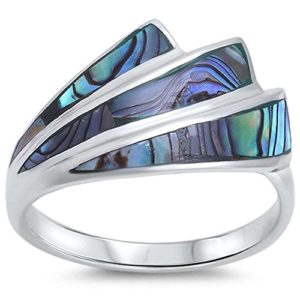 So many stunning abalone rings to choose from – and this style tops them all!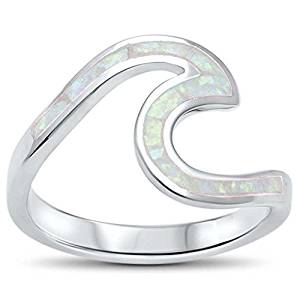 It is said that giving someone an opal brings them good luck. Since this is a lab-created opal, you can say you MADE them some good luck – no better gift than that.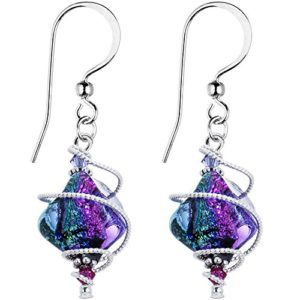 This is a best seller for a reason!  Stunning silver and Swarovski crystals = timeless styling.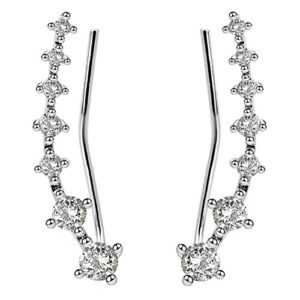 This simple, elegant piece follows the curve of your ear as a sophisticated accent for your night out.
This beautiful antique-silver-finish locket holds four photos – now you don't have to choose whose picture to use, you can put the whole family in there.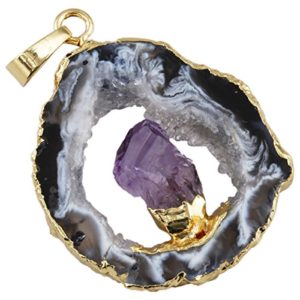 Just found some Thunder Eggs in the backyard and thought how geodes would make beautiful jewelry. Apparently I'm not the only one! Add an Amethyst and I'm in love. This gorgeous piece is the pendant only – just add the right-sized chain and start getting well-deserved compliments.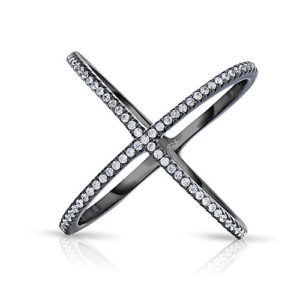 Unusual and simply stunning – elegance is affordable with this Sterling Silver Criss Cross "X" Ring Micro Pave Cubic Zirconia Black Platinum Long Ring.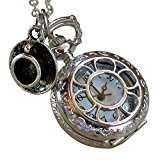 Function and beauty – Steampunk style!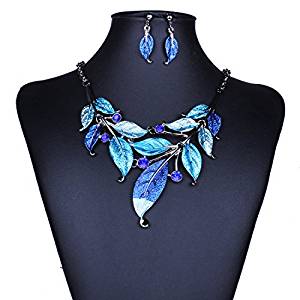 Add a dash of flash for any occasion – whether you're going elegant or wild, this will set off every outfit.
Unleash your glamour with this vintage look. Time to break out that little black dress!