If you liked Death Wish coffee – you're gonna LOVE Wake the Hell Up! ultra-caffeinated ground coffee. Medium to dark roast with all the caffeine and more – and with yummy flavors like Blueberry, Cannoli,  Jamaican Me Crazy and Peanut Butter Cup. A fresh taste with no bitter aftertaste – so here's your kick in the pants to Wake the Hell Up!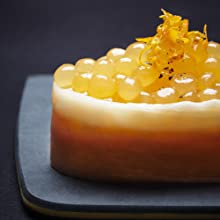 Forget what your Mom told you – It's OKAY to play with your food (in fact, we encourage it). Make foams, gels and bubbles with this molecular gastronomy kit that takes your culinary prowess to new levels – and unlike my food which has been compared to "science experiments" (and not in a good way…), you will use science to make spectacular dishes.
There's a time and place for regular coffee – and then there's time to get a little fancy. Enjoy for an after dinner pick-me-up or wake up to gourmet flavors; you can even make into a frappe for a delicious dessert – there are so many ways to enjoy your coffee now.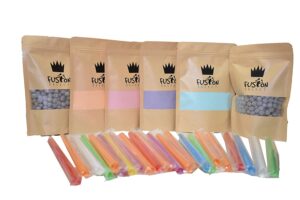 Great Balls of Boba – we have Bubble Tea! If you don't know what that is – you are not alone (we are deep diving into Bing after we saw this!). Apparently it can be any combination of tea, milk, syrup, fruit and little tiny tapioca balls for texture and flavor – and a little snack when the drink is gone. This 4-flavor variety pack is a great way to introduce or immerse yourself in a fun little beverage.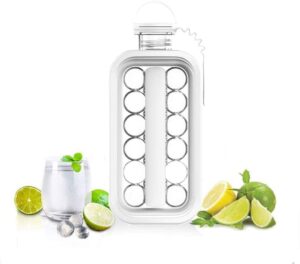 If you want to keep it cool, you're gonna need balls. Balls are the answer!  They're great at reducing heat and keeping drinks their coldest for the longest time. They are perfect for slowly infusing flavors into your coffee, tea or cocktails – and kids love juice balls. Just add water, milk, juice or whatever you can freeze – and get some balls. Take on road trips, use for parties or just chillin at home – everything is better with balls.
When you love jerky, but crave something new. Forget Teriyaki – try Loch Ness Monster instead. Sick of "peppered"? Try Pegasus! And who can pass up Keto-Friendly Kraken?! *Due to their individual diet choices, Chimera and Werewolf flavors may vary… This is the most fun you can have while chewing a Chupacabra.
[]]]]] – (Sorry, but the cat wanted to contribute to the site and we just couldn't say "no". Not to mention that "no" means nothing to her… So thanks for the input Turtle.)
Now back to business…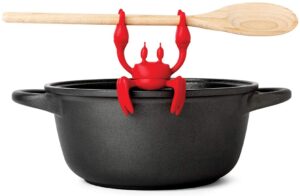 It'll be soup season soon and you'll need a cute little helper to hold your spoon. Lucky for you, here he is! And he holds more than spoons – so not only is he a darned cute kitchen companion, but he is happy to help out.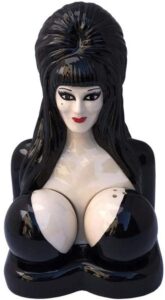 The Mistress of Horror is now your constant dinner companion. Need some salt – try her left "one", pepper – that's her right side! Elvira and her (ahem) assets will shake up your meal.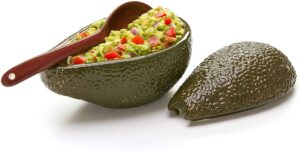 If you have THE perfect guacamole recipe – you're only half way there. You must have this avocado serving bowl to totally win the guac game. This hand-painted ceramic bowl and lid (with spoon included) needs to be on your table!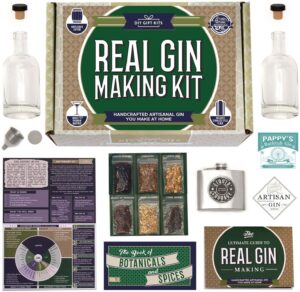 Maybe "stumble" is not the best word to use when pitching a DIY Gin Kit, but we DID stumble across this while searching for a gift for a coworker – and the search is over! Go all "mad scientist" and create your own artisanal blends and recipes – or follow instructions to make more traditional gins. Botanicals, spices and your own Liquid Courage flask – this kit has all you need to transform plain old Vodka into one-of-a-kind, extraordinary Gin.
If your partner dabbles in DIY or is a full-on Mr./Ms. Fixit, reward them for a job well done with some new tools. And since you may wonder why this item is in "Foodie Stuff" – these tools are made of dark chocolate. Intricately detailed, solid and life-sized… and delicious.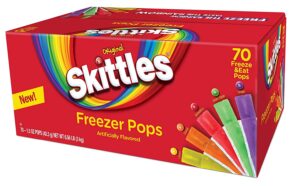 Skittles Freezer Pops because Skittles. Freezer. Pops.(!)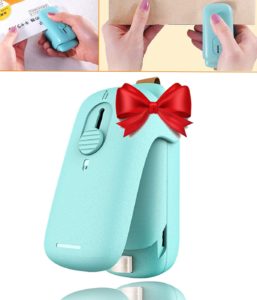 Among life's big fat "little" annoyances (leaving no toilet paper in bathroom or empty food packages in fridge and cabinets) is the open chip bag scenario.  Either other people don't think to roll them closed, use a chip clip or even deploy the "rubberband-and-break-the-goodies-last-ditch-effort" move. There is a way to save your relationship AND your sanity – reseal the bag the same way it was originally sealed. And this is the mini heat sealer that will do it. Simply glide over the opening of any package that can melt and, voila, no more stale snacks (or cereal/frozen food/etc.).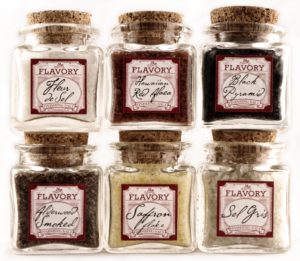 Too cold to go outside to play? Get a little salty in the kitchen and go all mad-scientist with this variety pack of gourmet finishing sea salts. Not a sampler pack – but enough to use repeatedly (and packaged in reusable cork and glass jars).  A gourmet must for you foodies!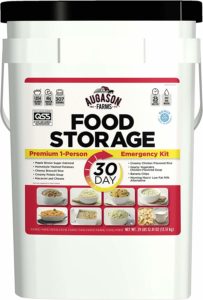 As the Country's situation becomes even more iffy each day – it may come to this.  The rush on toilet paper is flat out ridiculous – but imagine that extending to basic food. And if it becomes mandatory that we not leave our homes – this will come to you.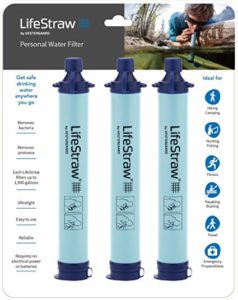 Add this to your emergency preparedness stash and filter unsafe water – lot's of it. Filter almost 800 gallons per straw – keep in car, home or at work – and don't worry about shelf life, it lasts indefinitely even after opening.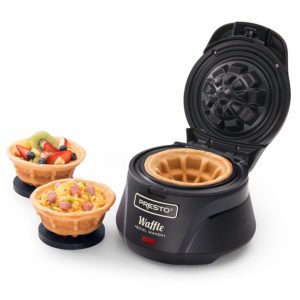 Ok, we're officially obsessed with waffles and this is seriously amazing. Add your favorite ingredients and make the best breakfast or snack bowls in minutes!
Get your Sweetie a cookie-dunking mug and let them know you're thinking about them.
He's back and better than ever!  It's called a waffle maker but I have personal knowledge that this Bob Ross is actually a pancake. We have been eating his face for years now and good ole Bob is one perfectly cooked, delicious pancake. Don't let this sell out again without getting one for yourself – or as a gift!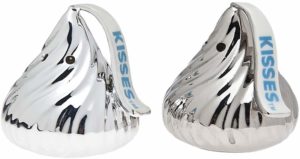 Let these little kisses sprinkle a little extra love on your foodie goodness – not to mention they are too stinkin' cute!
Set a beautiful table and top it off with this exquisite oil & vinegar (or soy sauce, etc) mouth-blown glass cruet.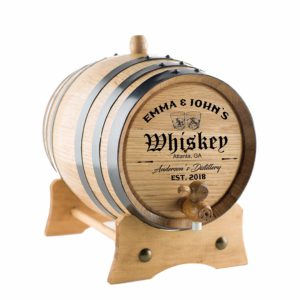 For the lovers of wine, whiskey or bourbon (actually whatever you want to put into it) – you will love this American White Oak Aging Barrel.  Age your favorite drink in this 2-liter, laser-engraved cask – and Voila(!), you have your own little distillery at home.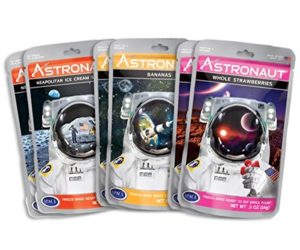 And then there's this… If you ever wanted to eat like an Astronaut – you're in luck! Order this variety pack and get two pouches each of Neapolitan, Banana Split and Strawberry Ice Cream. It's a great little snack for camping, school, Neptune, movie night – any time you want a no-mess treat.
From the wild rainforest of Tasmania, we bring you what ultimate foodies regard as the rarest and finest honey in the world. Christmas Bush is said to have a spicy, rich caramel kick;  and Leatherwood is described as divine, craveable, amazing – or simply THE BEST.
Ice Pops have evolved, grown up, and are now a superfood.  Pickle juice has so many benefits – and you can have them all in a ice bar (just in time for summer)!  Replenish electrolytes, ease muscle cramps and stay hydrated. On the other end of the spectrum – they are a fun little chaser to a whiskey/pickle back…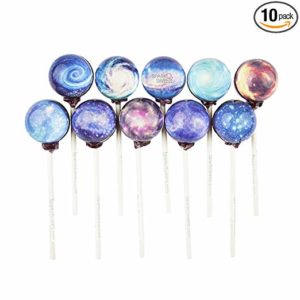 Tired of being promised the moon and the stars? Demand the whole darned galaxy. Covet the cosmos – different sets of gourmet flavors will have you sucking on a supernova!  So impressive and beautiful that you may not want to eat, and that's okay too.
Truffles? Yes, please! Three different kinds?! Brain Explosion. Share some truffle love with all your food.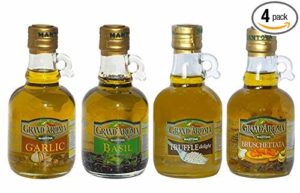 Go Authentic, Go Italian! Drizzle these amazing flavors on your food for a healthy treat for the taste buds. Make this a Christmas gift they'll love – and use over and over.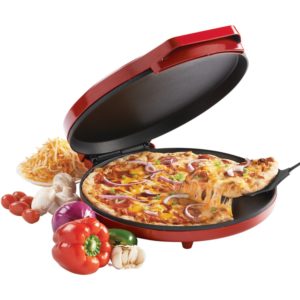 Yay for gadgets! This fun little oven makes pizzas, quesadillas, nachos – and even giant cookies. Quick cooking and clean-up brought to you by Betty Crocker!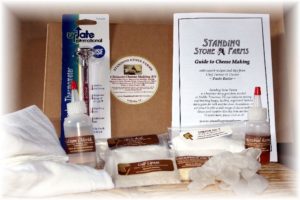 Smile and say "Cheese", then smile and make cheese – and smile and eat cheese! Make all different kinds of cheeses, including Mozzarella, Monterey Jack, Feta, Marscapone, and good old Cream Cheese. This gets a big fat Oh Yes from us – and someone on your Gift List will love this (she writes as her mouth starts to water…)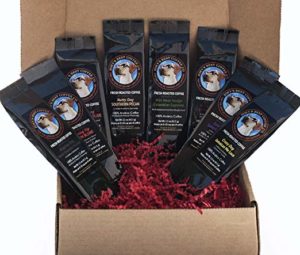 For the dog lovers out there – who wouldn't want a cup of Wet Nose Nudge or Muddy Dog? Grab a 8-pack sampler of really good coffee with really goofy dog names – but get them fast, supplies are low (we just had to post as a Holiday gift idea).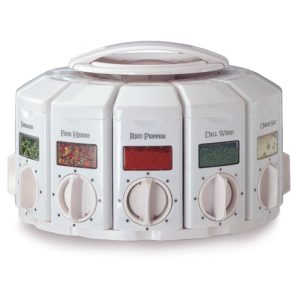 Spice things up without rummaging through cabinets to find all the ingredients you need. This convenient rotating caddy will also measure out the amount needed – so go pro in the kitchen and go all "mad scientist" with your food!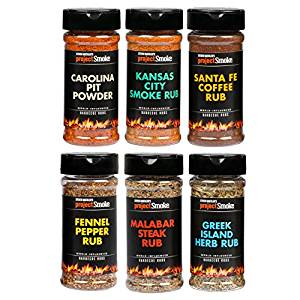 Fire up those grills and be an instant pitmaster with the Project Smoke collection. There's a rub for anything you want to cook up!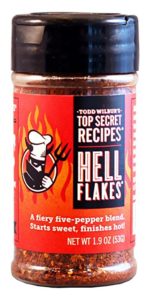 Love hot food and hate your digestive tract? Have we got a treat for you! Starts sweet, but then the heat sneaks up on you.
Oh, good grief – Tricerataco is a big fat YESS!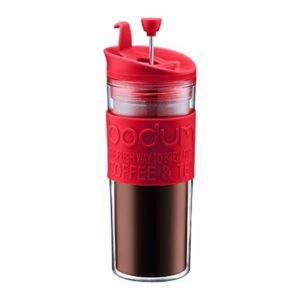 When you're busy running around or travelling, don't take chances on settling for cardboard-tasting coffee where (or if) you can find some – just bring your own.  All you need is your favorite coffee grounds and hot water. Brew and drink from the same container; so clean-up is a breeze. Mother's Day is coming and she'll love this! Order now for over "half off" savings!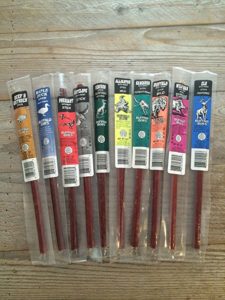 Love jerky, but looking for something a bit different?   Spices don't make all the difference – try exotic meats… How about Kangaroo, Alligator, Buffalo, Maple Duck, Pheasant, Elk, Ostrich, Wild Boar, Hawaiian Pork, Venison? Take a taste of the wild side.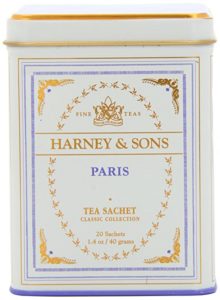 This fruity black tea, with vanilla and caramel flavors, and a hint of lemony Bergamot has us rethinking tea!
Size matters – so go big AND go home (to eat giant candy)! And the Amazon reviews on these are sooo entertaining… According to the Questions section, the Gummy Bear is anatomically correct, but we have our doubts. Either way – these are great gifts for Gummy lovers.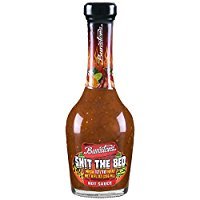 Let's certainly hope that the name is exaggerated and the reviews aren't – then we have a winner!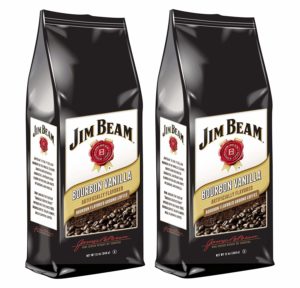 Coffee with a bourbon flavor kick!  Watch their faces when you tell them you had Jim Beam for breakfast.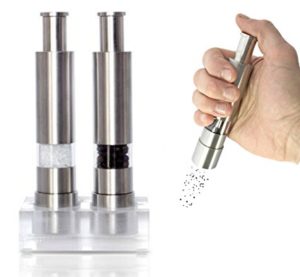 It's about time that salt and pepper grinders got streamlined. Now you only need your thumb and you get exact placement of your spices. Quality stainless steel inside and out – so your grinders will stand the test of time and use!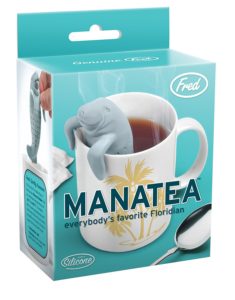 Probably the cutest thing we'll see all day… Tea drinkers rejoice – you now have a drinking buddy!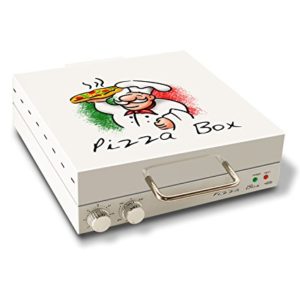 Cook that  pizza in the cutest little portable oven.  Rotating cooking surface with top and bottom elements gives you the perfect pizza every time. Excellent price with fantastic reviews – you can't pass this up!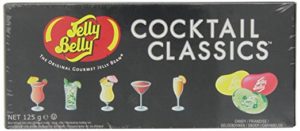 Because drinking at work is frowned upon…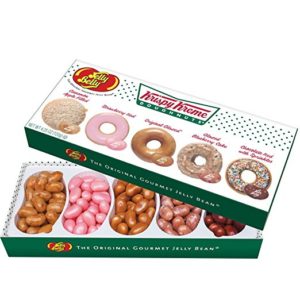 Jelly Belly + Krispy Kreme = EXCELLENCE! Great for parties, Valentines Day or just a bingeworthy snack. Amazing flavors at an amazing value – they will not disappoint.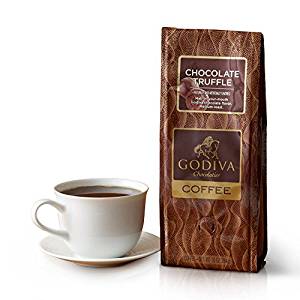 Our four favorite words:  Godiva, Chocolate, Truffle, Coffee.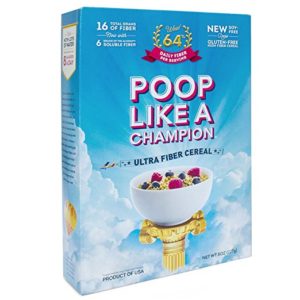 Gotta love when a product just puts it out there.
Not your run of the mill jerky here – things got a little WILD!
Buffalo Jerky (3oz) & Rabbit Jerky (3oz)

Elk Summer Sausage (16oz) & Venison Landjaegers (6oz)

Wild Boar BBQ Jerky (0.75oz) & Alpaca Jerky (1oz) & Beef and Ostrich Stick (1oz) & Maple Duck Jerky Stick (1oz) & Beef and Pheasant Jerky Stick (1oz)

These exotic meat sticks and sausage use a time tested recipe that balances wild game with premium pork or beef to accentuate the flavors

Comes in a Wooden Gift Crate – Jerky Lover Gift Set – Great Gift For Him – Christmas Gift – Birthday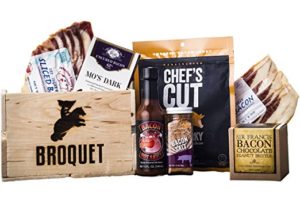 Want a gift box that's a little more tame than exotic jerky?  Ahhh, Bacon.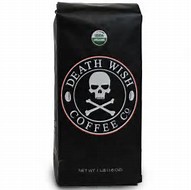 There are no better words that I can use to describe Death Wish, so I will just post a customer's review of this double-caffeinated coffee –
"I AM DRINKING THIS COFFEE RIGHT NOW AND I CANNOT STOP SHOUTING AND WRITING IN CAPS LOCKS IT IS SO GOOD AND IT IS SUPER CAFFINATED AND PUNCTUATION IS FOR LOSERS THAT LIKE WEAK COFFEE".
And there you go…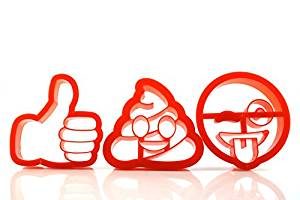 Kids love cookies, kids love emojis, kids will love this combination! Great for parties and school (and the office).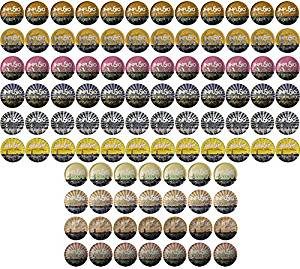 Suffer "menu fatigue" no longer with an amazing variety of coffee pods!  Contains 12 cups of City Roast, French, Donut, Colombia, Italian, & Chicory. 6 cups of Hazelnut, Caramel, Chocolate chip, Vanilla