Lacking a green thumb – but not lacking great taste in house plants that suit your personality? You can't kill this (although we cannot guarantee that it won't try to do you in…).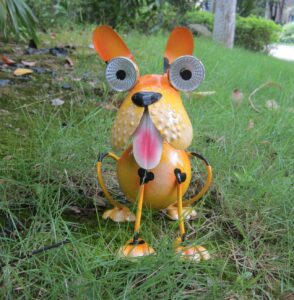 Forget the froo-froo flowers, the run-of-the-mill cutesy hummingbirds and the mini industrial searchlight-looking stakes – and accent your garden, walkway or stairs with a goofy, happy, solar-powered puppyhead. With 100% Satisfaction Support, the only worry you'll have with this little cutie is making sure the neighbors don't swipe him!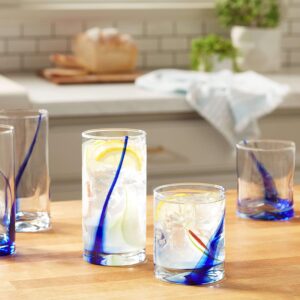 We were on the hunt for "radioactive waste" drinking glasses and got sidetracked by this awesomeness. Add a little flair to your glassware with this 16-piece mixed set of gorgeous!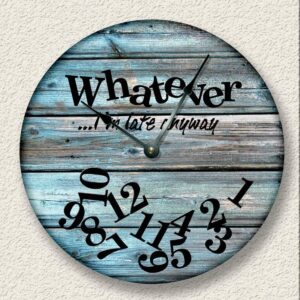 We all have that friend or family member… – and if they like a rustic look, they'll love this!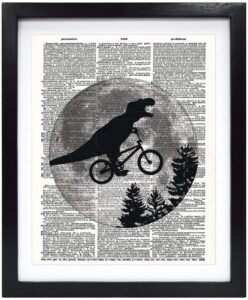 When you love dinosaurs and then add a touch of whimsy – you get this happy little dino art print that'll make you jealous over all the fun he's having.
Aliens have landed and they brought lighting fixtures!  Well actually not a fixture – but a portable, wireless LED lantern that they've used for Earth Invasions (aka "Camping Trips"), Interstellar Power Outages and even a nightlight for their Extraterrestrial Outhouse/Onboard Bathroom. Pretty handy for the office too.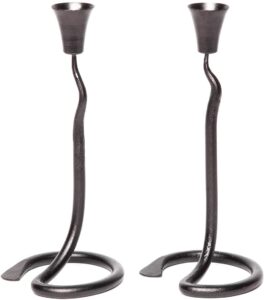 We've posted enough candles throughout the years – but here are the first candlesticks we think will work for you.  Hand-forged wrought iron sticks add a quirky, artsy touch for your dinner table or fireplace mantel (really, wherever you need or want candles).  Simple, elegant and classic!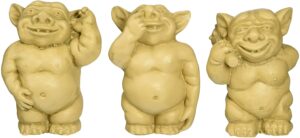 It has come to our attention that this site is lacking gargoyles, and we are fixing the issue right now. Fun Fact: Gargoyles started as decorative water spouts to keep rainwater from eroding mortar in masonry walls. Unfortunately these guys won't do that… Then it was believed that they ward off evil spirits – but these guys are miniature, so they probably can only fully protect a two-bedroom apartment. But hey! They are kinda cute (in a weird little gargoyle way) that no matter where you live, you can always use three nakey little friends.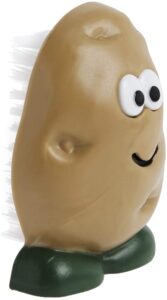 This happy little Potato Scrubber doesn't discriminate – he will scrub all your veggies AND with a smile on his face! How often does that actually happen?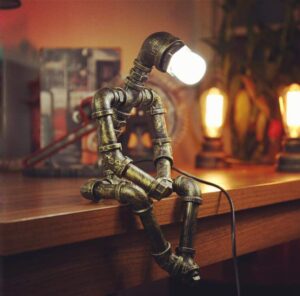 Oh Robot Lamp, how do I love thee? Let me count ALL the ways… (This will take a while!)
When you want to assure guests that they are not standing on a trap door – this oughta do the trick…
Set the mood in any room or office with ready to hang Starry Night Wall Art Panels. Big, beautiful and excellent quality – worth every penny (and not too many pennies at that!). We're loving the panel layout style – adds a touch of modern to this classic.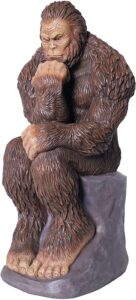 Get yourself an instant classic – Darryl does The Thinker!  Being a Bigfoot is not as easy and glamorous as you may think, and sometimes a Bigfoot has to take a step back and contemplate his next step. Give him refuge and put him in your garden or on your deck, letting him think in peace – or take him to the office and have your coworkers start to worry about your sanity.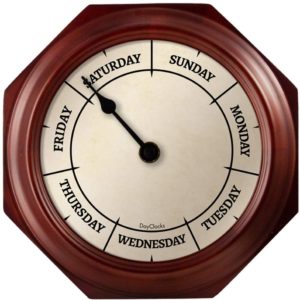 We have to admit that this would've been helpful during quarantine, but hey, there's always retirement!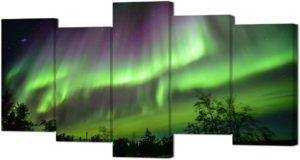 If you are a big fan of the Aurora Borealis – the otherworldly and mystically stunning feel you get from looking at the natural phenomena – have we got a treat for your home or office wall. We also love multipiece art to make a visual impact – and this set fits all those wants. Easy to hang and with a 30-Day Refund Policy – the 100% Satisfaction Guarantee is no joke with this Seller!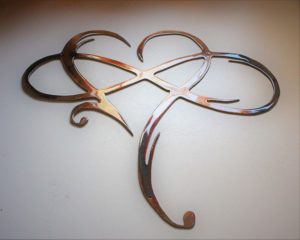 This metal Infinity Heart wall art is just the right amount of stunning. Lightweight and with options of sizes and coloring, this will make a perfect gift for Birthdays, Weddings and Valentine's Day (but order quickly, it takes time to create). Simple beauty for less than chocolates and roses!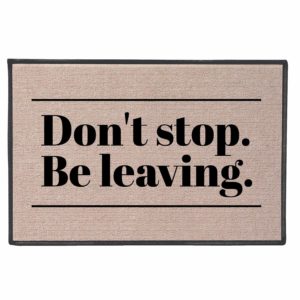 Now that the major Holidays are over, you no longer have to try to be nice – and you can start with this Unwelcome Mat at your doorstep. 27″ x 18″ Olefin carpet door mat urges your guests to continue their "Journey" (See what we did there? A bad pun on a Monday? Oy…). Annnyway, it's durable, washable and downright funny.
Having a manual coffee grinder back in the day, we see they've since stepped up their style game! Freshly ground coffee is much fresher and the smell? Soooo enticing. Mix whole beans and create your custom blend – then just turn the crank for the best coffee, spices or nuts. Adjustable grind settings and no electricity necessary – all in an antique-looking cast iron mill.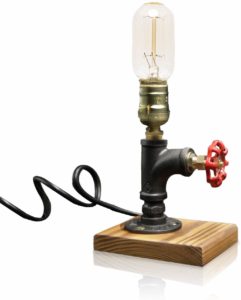 If mancaves are still a thing, this belongs there! Or on the nightstand (dimmable!), office, dorms, workbench – wherever.  Call it vintage, retro, industrial or steampunk – we just call it incredible.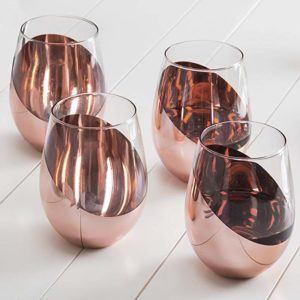 Introducing a No-Brainer glass for you wine lovers out there! These beautiful stemless copper-tone wine glasses catch the sparkle of your favorite wine along with your room's ambient light , creating a tempting visual to go along with favorite choice of beverage.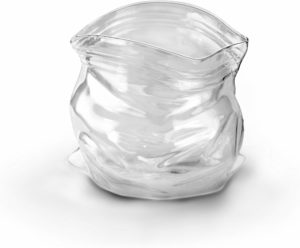 Here's a snack bowl from which no one can resist grabbing a handful of treats.  Go ahead and pass those M&Ms or peanuts around in this glass Ziploc-style "bag".

Fill 'er up with your favorite drink – whether alcoholic or not – with this decorative gas pump. A unique touch to the liquor cabinet has you pouring shots through the hose and nozzle. A great gift for the car enthusiast on your list.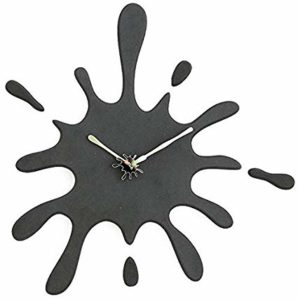 Make a splash in any room or office with this modern ink blot clock. Silent, eye-catching – a fun gift for you (or friends and family).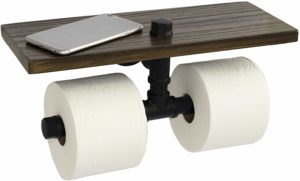 At the risk of being sexist, this is for the ladies of the house – take the day off because changing the roll is so easy that even the guys may do it! (Come on guys, you KNOW it's true…) Fits double rolls and, with metal and thick wood, the sturdy shelving makes this a little luxury we all want.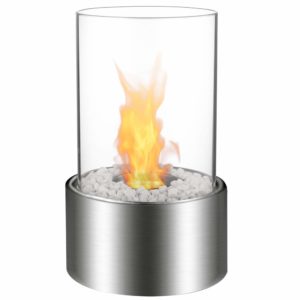 Set the mood and warm up a room with this tabletop fireplace. Ash-free, soot-free and stink-free! Use inside or outside for cozy ambience – and be assured with the company's 100% Satisfaction Guarantee. Simple, elegant and portable so you can enjoy in any room – or even the patio.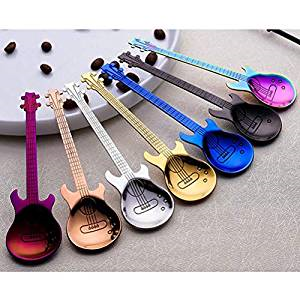 What's the old saying? "You can take the man out of the music, but you can't take ice cream out of th"… nope. "Give a man chicken noodle soup and he eats for a day, teach a man the guitar"… wrong again. Maybe it's "Give a man a guitar spoon and watch him play with his food"… close enough!
Hims is cute and definitely functional.  Plop him in the kitchen and set his timer – he will automatically steep your tea to your liking (and will double as a egg timer).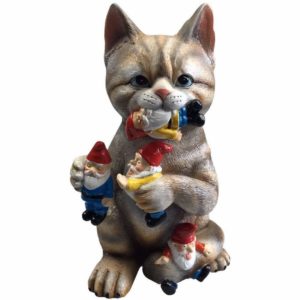 Pesky garden gnomes tearing up your yard? Tired of the loud music – and little tiny soda cans & candy wrappers they leave behind? Get a Cat (this guy oughta frighten them off).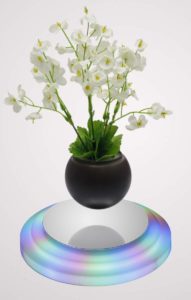 Here's a unique gift for house warming, weddings and Valentine's Day – an LED levitating plant pot. The mirror base adds a dramatic light for your floating flowers (or any small plant) and is an immediate attention grabber for your home or office.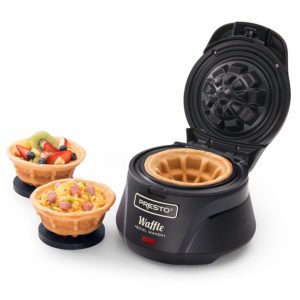 Ok, we're officially obsessed with waffles and this is seriously amazing. Add your favorite ingredients and make the best breakfast or snack bowls in minutes!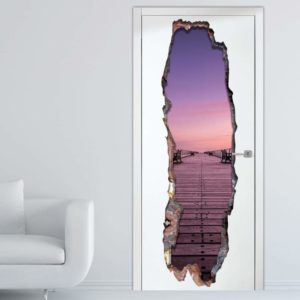 If you can't escape just yet – at least get a glimpse of calm.  This self-adhesive, removable door sticker offers you a view to another place and time before you start the grind again.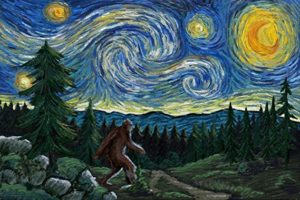 We can only guess that if Van Gogh lived in Big Foot Country, this would be his famous masterpiece!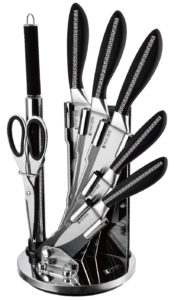 Loving this knife rack! See which knife you need with this rotating acrylic stand – complete with knives, scissors and sharpening tool.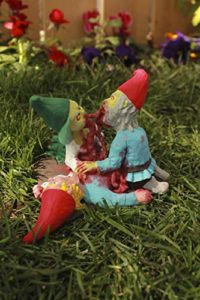 Spruce up your yard and celebrate love – Zombie style.  All Zombie Gnomes are handmade and painted in Southern California. They are made out of a cement blend that is weather resistant. It is painted with a UV / Mold resistant paint and then coated with a weather resistant sealer. Lots of new friends to choose from!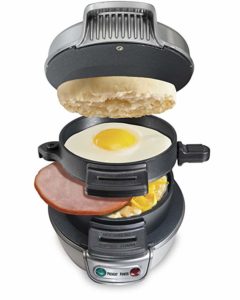 Skip McDonalds and do it yourself – quickly and easily. Add whatever ingredients you wish and custom make your breakfast sandwich in 5 minutes, all at an incredible price.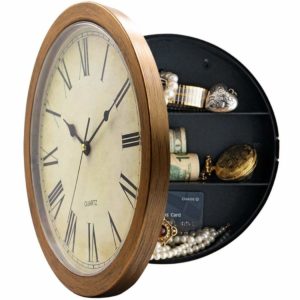 Hide your stuff in plain site with this Retro-Style working wall clock and it's hidden compartment. Easy access and keeps items out of reach of kids and other shorter humans.
If you like things a little off center from the norm, we're happy to present this wall/tabletop clock – in all its glory.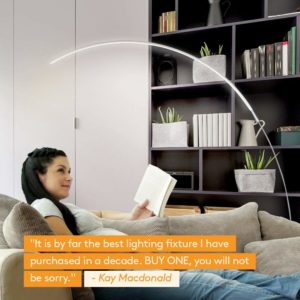 When you want a warm, natural spotlight that some have compared to a skylight – you want this contemporary, minimalist arc floor lamp.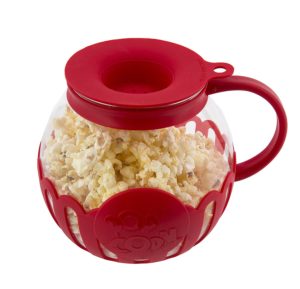 This cute little snack size microwave popcorn popper is designed for less burning and makes it easy to check if your popcorn is done.  Family-size popper is available too!
For the thirsty Star Trek geek. (Yep, watching Big Bang Theory reruns again…).   The oven mitts are what we wanted to originally post, but there are only six left – so grab them while you can!
Make an impression while adding a little fun & uniqueness to your drinking glasses.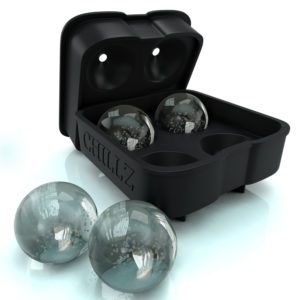 Make even more of a (functional) statement with your drinks and add some balls! They melt slower, so they don't tend to dilute your drinks so fast – and because no one wants weeny little (boring) ice cubes!. They even make a really fun popsicle for summertime.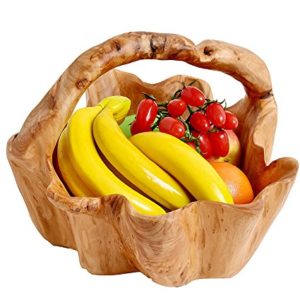 Baskets are handy for many things – one of which is making fantastic gifts!  Mother's Day is approaching and Mom can use for her crafts, food or as decoration.  Made with root wood, the unique style of mother nature make these  practical and artistic.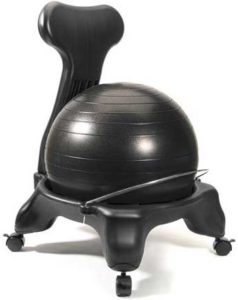 Back and spine problems?  Forget the chairs you kneel on – this is safer to get on and off of, and way more fun (with more back support). 2-year warranty – and perfect for the office too!
Every once in a while we "play it straight", and this is one of those "whiles".  Not much for scaremongering, but everyone should be prepared for disasters – both natural or man made. This extensive kit is emergency preparedness at an excellent price; something every family needs "just in case". When an emergency hits, store shelves will be bare – and what's left is subject to price gouging.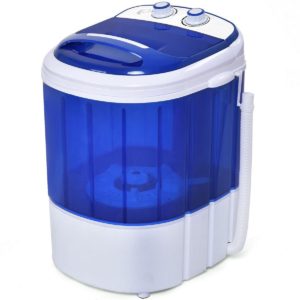 Sooo many reasons this is a great idea… Dorm life, traveling, emergency loads, hatred of laundromats. This mini, portable washing machine has the rave reviews of machines costing twice the price. Case closed!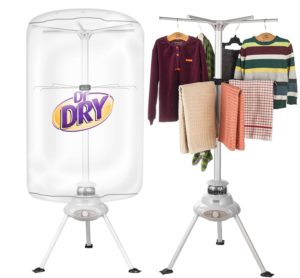 Next – you can either air-dry your clothes, or… TA DA!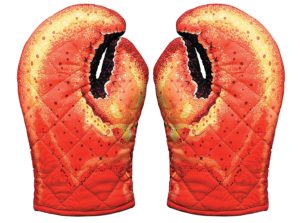 We're hungry. We want lobster. This is as close as we're getting today.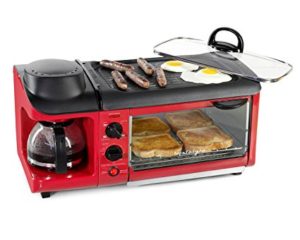 Why trash the whole kitchen to make breakfast? Save that for dinner!  Better yet, make dinner with it too (it's not just for breakfast food).  Use it anytime you need a griddle, toaster and coffee. Take it camping, use it in the dorm – perfect for singles.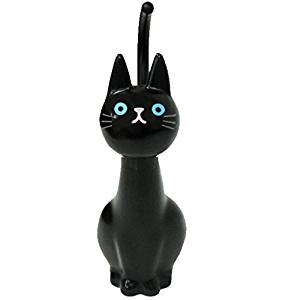 Crazy cat ladies – this one's for you!  Cats follow you into the bathroom all the time, so this will look at home in there. Just make sure you clean the toilet bowl with the right cat. (The real ones tend to get a little pissy when wet…)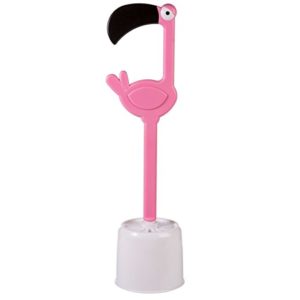 You have to clean the toilet, so let this little guy help – he's a lot more useful than a lawn ornament!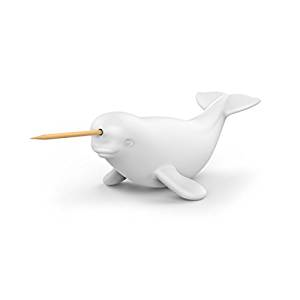 Because who can say "No" to a Narwhal Toothpick Dispenser?!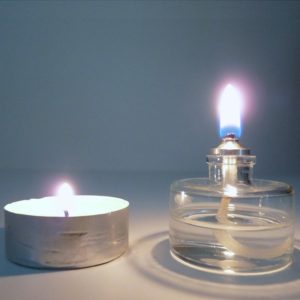 Even though you need functional candles, there's no reason why they can't be stylish. Refillable and unique – which would you rather have, the one on the left or the right? Right one it is!
Just add fruit and nothing else!  Okay, go ahead and add chocolate…
HEALTHY GOODNESS: With Yonanas, you can instantly churn 100% frozen fruits to create a healthy dessert without additional fat, sugar or preservatives compared to other "ice cream" or "yogurt" like treats.

EASY & FUN TO USE: Transform frozen fruit into dessert in just seconds by simply inserting frozen bananas (or any fruit of your choice) into the chute and pushing down using the plunger. It's that easy and fun to make!
Unlike alarm clocks that wake you up with screeching sound, this clock hacks your circadian rhythm and helps you wake up naturally without any sound at all. By simulating the sunrise, your body should wake up gradually and more comfortably. However, if you want to set a backup audible alarm just in case, this clock has that too. No more waking up in the dark – while you are waking up in the dark!  It also has a "dim to sleep" feature – as an extra added bonus.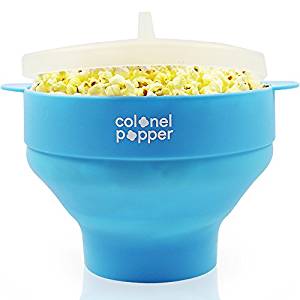 Save on "microwave" popcorn and still microwave your popcorn! Use ANY type of kernel, oil or not – it's entirely up to you. If you have never found microwave popcorn that tastes right,  you're gonna want this – make your favorite popcorn with convenience. And the bowl collapses for easy storage. Great for home, dorm or camper (anywhere you have a microwave). It's a BIG WIN for everyone!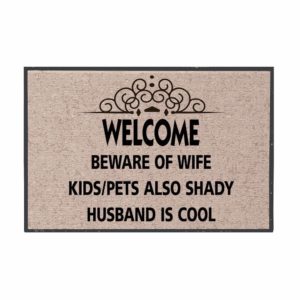 Let them wipe their feet and take their chances – It's always nice to let people know what they're getting into…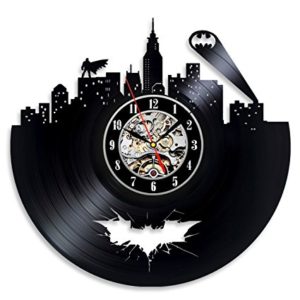 We all have a Batman fan who would absolutely love this clock, maybe it's you?..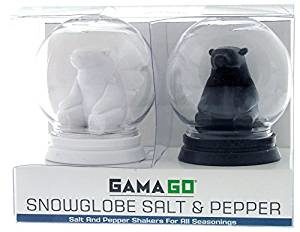 And for Salt & Pepper cuteness overload – VOILA!  Not sure what else I can say – so, again, cuteness overload.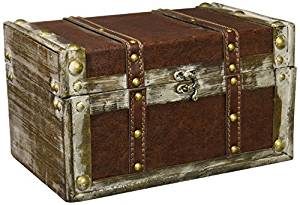 Today we offer a cute little decorative box for jewelry, trinkets and various assorted doo-dads.  A major step up from the standard shoebox storage system.
Turn all your pictures into wall art with this picture frame – great for the home, office or dorm.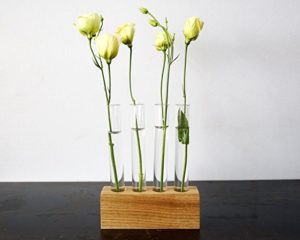 We're thinking this'll make a cute addition to your work desk – or a great gift for a favorite teacher. This saves space (instead of a bulky traditional vase) and no flower arranging skills are required.  Makes an interesting pencil holder too!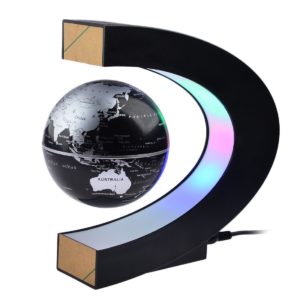 Great decoration for your home or office – LED lights create a cool effect when used in the dark.
If you're looking for a wall-mounted votive candle holder or unique diffusers, Pine Oak Farms has some of the best we've run across – at great prices (and who doesn't appreciate value?)!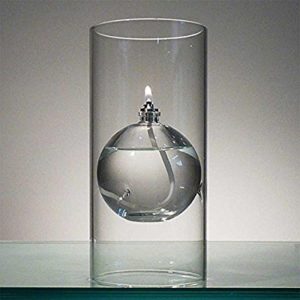 Get a little futuristic with this cool little oil lamp. This is definitely an attention-getter and burns over 16 hours on one fill.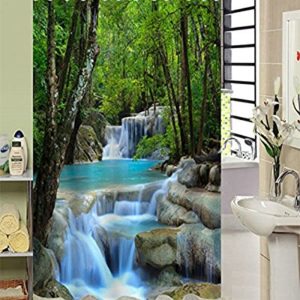 "Pretty up" your potty!  You spend enough time in the bathroom, you may as well make it a scenic place to escape.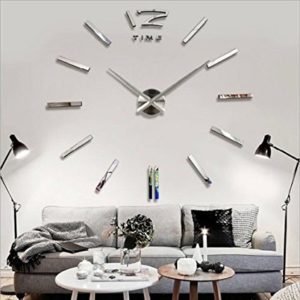 Decorate your space with functional art – this clock is sleek and elegant, and simple to install. Great for your home or office, this make a stunning centerpiece to any room.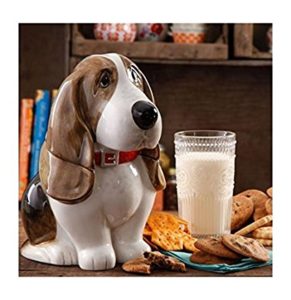 If you have cookies, you need this cookie jar – hims even looks like he's begging cookies from you (just like a real dog)!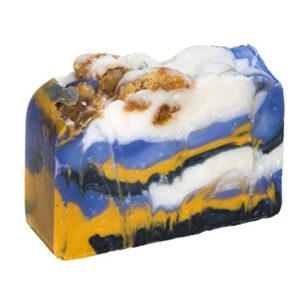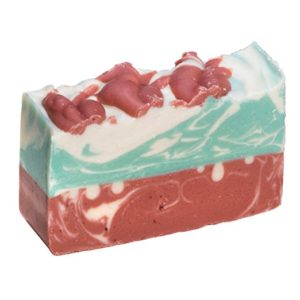 Add a little fun to the "functional" of your bathroom soap.  Made with shea butter, coconut oil and natural glycerin – and natural essential oils.  Available in White Tea & Ginger, Red Rose & Goat Milk and Oatmeal Honey, you will find your favorite fragrance together with colors to complement your decor.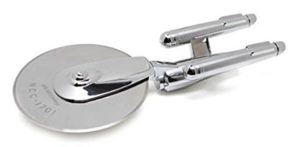 Geek Alert! Even nerds love pizza.
Fill your home with scent and get a reusable Mason jar when you're done. Add the "suggestive" name on the label and you get a great conversation piece. Available in "Hot Buns", "Nice Melons" and the ever-popular "Smell My Nuts".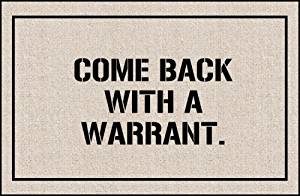 Maybe it's  time to bring back doormats!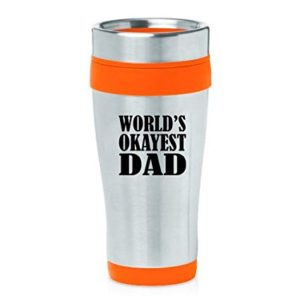 Show Dad how much you love him! Okay?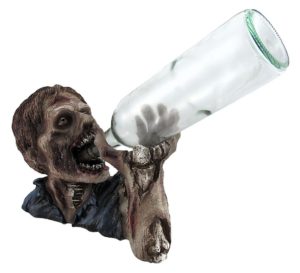 Never drink alone when you can drink with the undead.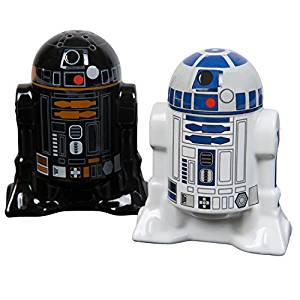 "Shake" up your meals and dine with the Droids.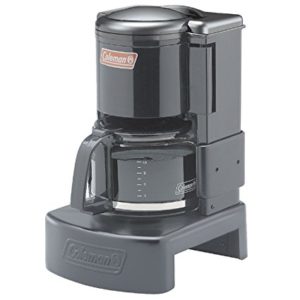 Diehard campers will tell you they LOVE campfire coffee . I call BS on that – BUT now they will love camp coffee because Coleman has figured out a perfect balance between the outdoors and drinkable, home-brewed coffee. (Thank goodness…)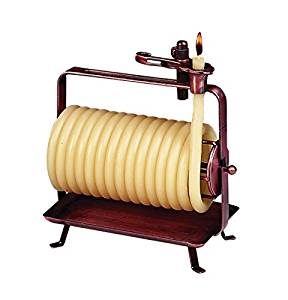 Candles sometimes are necessary, always make a great gift and are never this unique. Got this for my Sister-in-Law as a  Holiday present and everyone had to pick it up and give it a closer look.