If you've ever had pets, you know it's hard to use the bathroom without their "help". This little doggie is actually helpful – if you need a tissue. Takes a smaller-sized tissue, but who said having a dog in the bathroom was going to be easy. At least he doesn't weigh 120 lbs and stare at you in a personal moment… but we digress. And kids may use tissues instead of sleeves with him around – so BONUS!
This one screams LOVE to your inner child – or your actual child's inner child. Not cheap plastic – but a sturdy resin, crafted in Spain. A little touch of fun for any home, and we're thinking bathroom door (so if you forget your phone, you can at least talk to Mr. Doorknob). If you can't think of anywhere he belongs, you may be dead inside…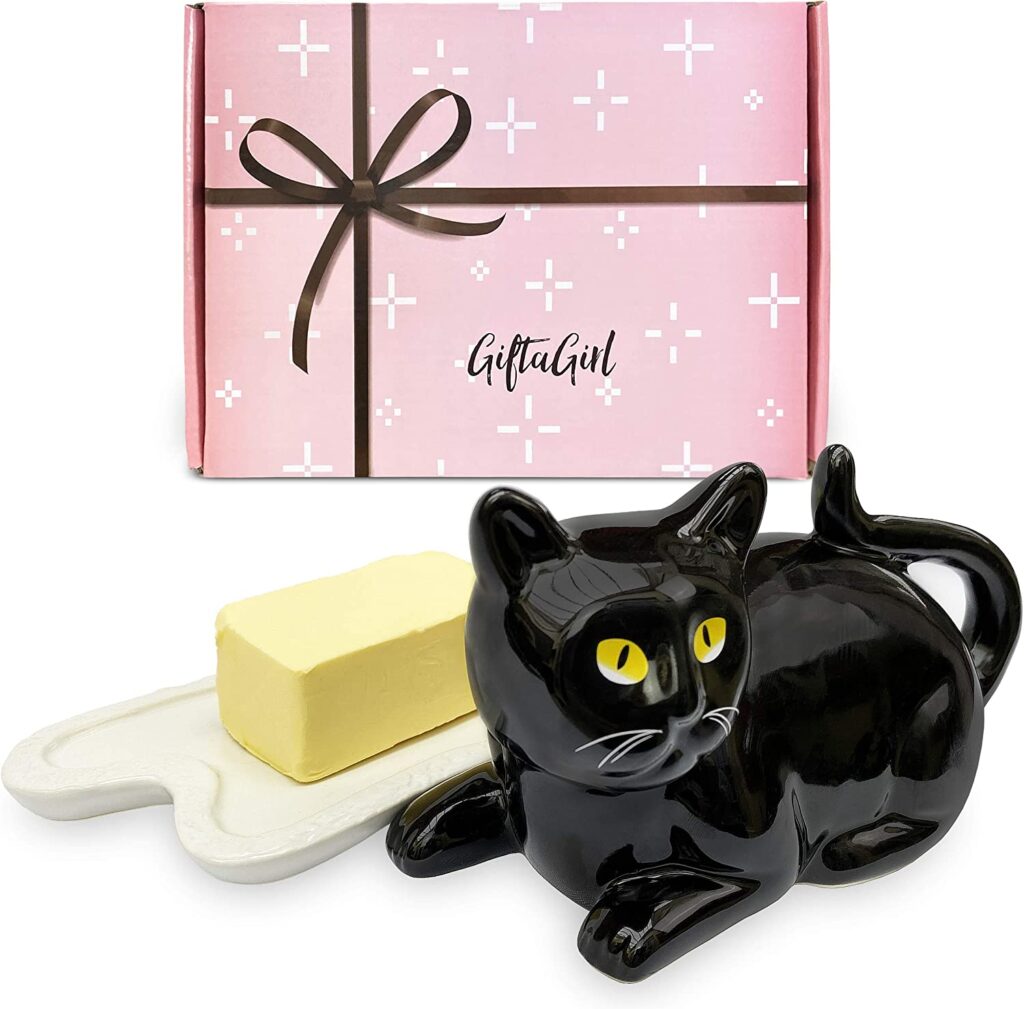 As a big fan of black cats (Freddie Kruger, Rocco the Enforcer, Boris Badenov, Barnaby P. Cat, Houdini and, of course, Tweezer) – we believe no home is complete without one. If you are not able to adopt a mini Panther at the moment, you can at least enjoy the company of this little guy in your kitchen in the meantime.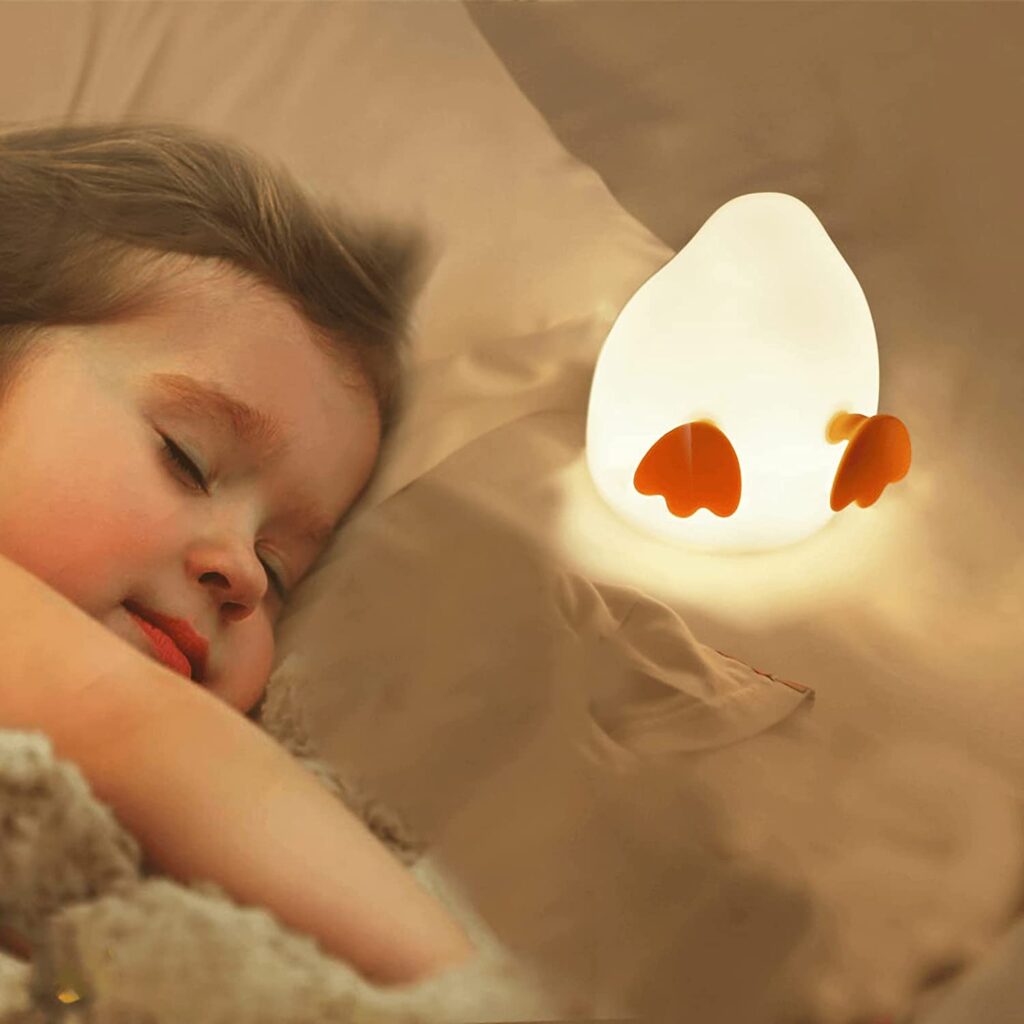 When you feel like "blah" and life's in a rut
and basically know you're a bit of a nut,
you truly feel down deep in your gut
you need this shining little duck's butt.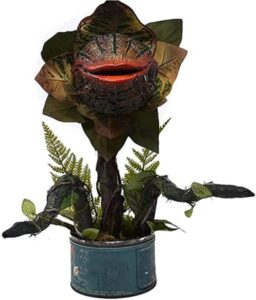 Lacking a green thumb – but not lacking great taste in house plants that suit your personality? You can't kill this (although we cannot guarantee that it won't try to do you in…).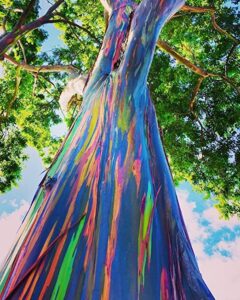 We post this with a warning that a lot of exotic seeds don't do well in other regions, but we had no idea that there was a Rainbow Eucalyptus tree. And it is sooo amazing! You get 1000 seeds for dirt cheap (pun intended), so if you have a green thumb and lots of patience, you definitely want to give this a try!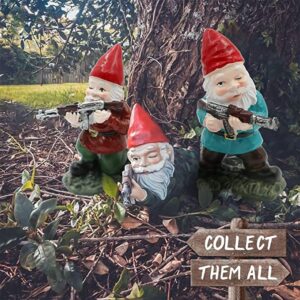 Garden Gnomes or Guarding Gnomes? Mini enforcers of peace and order will keep your yard safe from marauding tomcats and maybe that yapping little dog next door. Cute and cuddly? Nah – but they are itty bitty little badasses!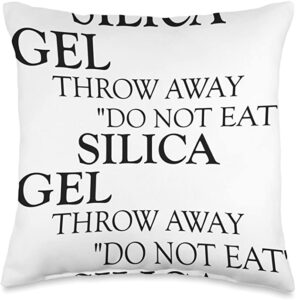 Warning: Do Not Eat! Instead – decorate your couch, bed or wherever you want a fun floofy pillow.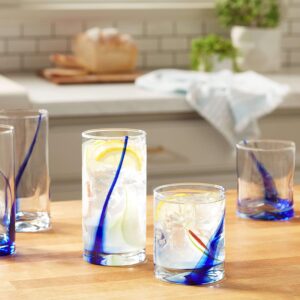 We were on the hunt for "radioactive waste" drinking glasses and got sidetracked by this awesomeness. Add a little flair to your glassware with this 16-piece mixed set of gorgeous!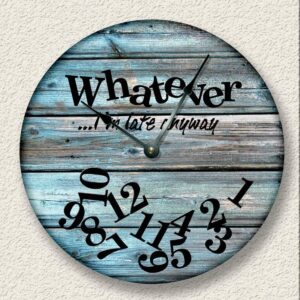 We all have that friend or family member… – and if they like a rustic look, they'll love this!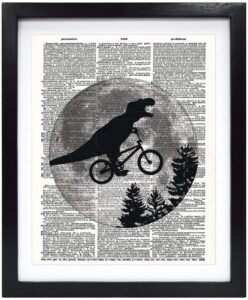 When you love dinosaurs and then add a touch of whimsy – you get this happy little dino art print that'll make you jealous over all the fun he's having.
Aliens have landed and they brought lighting fixtures! Well actually not a fixture – but a portable, wireless LED lantern that they've used for Earth Invasions (aka "Camping Trips"), Interstellar Power Outages and even a nightlight for their Extraterrestrial Outhouse/Onboard Bathroom. Pretty handy for the office too.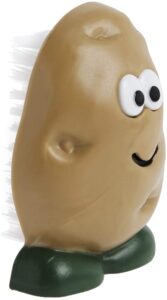 This happy little Potato Scrubber doesn't discriminate – he will scrub all your veggies AND with a smile on his face! How often does that actually happen?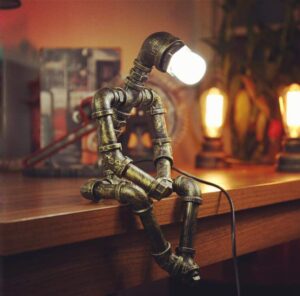 Oh Robot Lamp, how do I love thee? Let me count ALL the ways… (This will take a while!)
Set the mood in any room or office with ready to hang Starry Night Wall Art Panels. Big, beautiful and excellent quality – worth every penny (and not too many pennies at that!). We're loving the panel layout style – adds a touch of modern to this classic.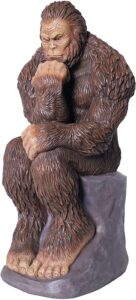 Get yourself an instant classic – Darryl does The Thinker! Being a Bigfoot is not as easy and glamorous as you may think, and sometimes a Bigfoot has to take a step back and contemplate his next step. Give him refuge and put him in your garden or on your deck, letting him think in peace – or take him to the office and have your coworkers start to worry about your sanity.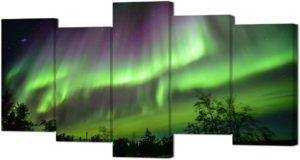 If you are a big fan of the Aurora Borealis – the otherworldly and mystically stunning feel you get from looking at the natural phenomena – have we got a treat for your home or office wall. We also love multipiece art to make a visual impact – and this set fits all those wants. Easy to hang and with a 30-Day Refund Policy – the 100% Satisfaction Guarantee is no joke with this Seller!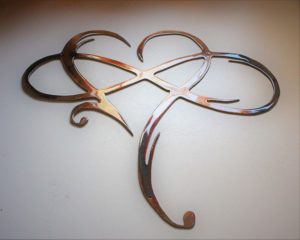 This metal Infinity Heart wall art is just the right amount of stunning. Lightweight and with options of sizes and coloring, this will make a perfect gift for Birthdays, Weddings and Valentine's Day (but order quickly, it takes time to create). Simple beauty for less than chocolates and roses!
Having a manual coffee grinder back in the day, we see they've since stepped up their style game! Freshly ground coffee is much fresher and the smell? Soooo enticing. Mix whole beans and create your custom blend – then just turn the crank for the best coffee, spices or nuts. Adjustable grind settings and no electricity necessary – all in an antique-looking cast iron mill.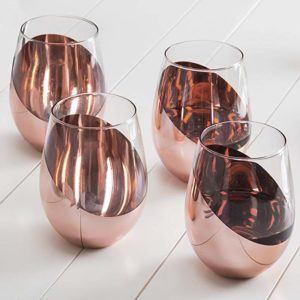 Introducing a No-Brainer glass for you wine lovers out there! These beautiful stemless copper-tone wine glasses catch the sparkle of your favorite wine along with your room's ambient light , creating a tempting visual to go along with favorite choice of beverage.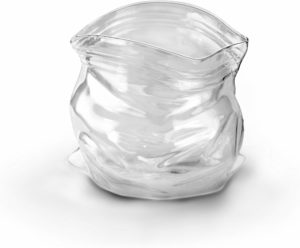 Here's a snack bowl from which no one can resist grabbing a handful of treats. Go ahead and pass those M&Ms or peanuts around in this glass Ziploc-style "bag".

Fill 'er up with your favorite drink – whether alcoholic or not – with this decorative gas pump. A unique touch to the liquor cabinet has you pouring shots through the hose and nozzle. A great gift for the car enthusiast on your list.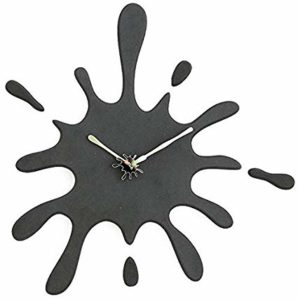 Make a splash in any room or office with this modern ink blot clock. Silent, eye-catching – a fun gift for you (or friends and family).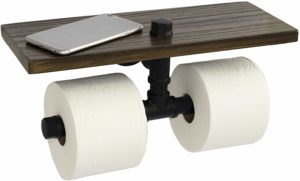 At the risk of being sexist, this is for the ladies of the house – take the day off because changing the roll is so easy that even the guys may do it! (Come on guys, you KNOW it's true…) Fits double rolls and, with metal and thick wood, the sturdy shelving makes this a little luxury we all want.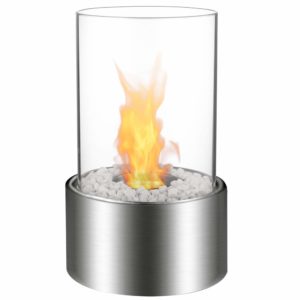 Set the mood and warm up a room with this tabletop fireplace. Ash-free, soot-free and stink-free! Use inside or outside for cozy ambience – and be assured with the company's 100% Satisfaction Guarantee. Simple, elegant and portable so you can enjoy in any room – or even the patio.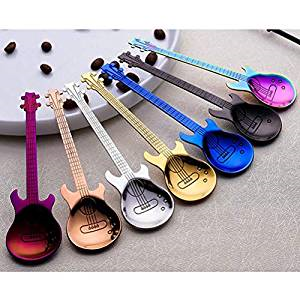 What's the old saying? "You can take the man out of the music, but you can't take ice cream out of th"… nope. "Give a man chicken noodle soup and he eats for a day, teach a man the guitar"… wrong again. Maybe it's "Give a man a guitar spoon and watch him play with his food"… close enough!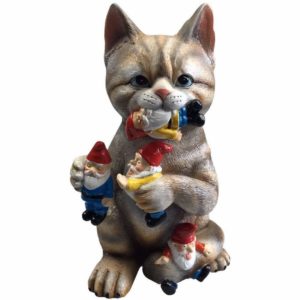 Pesky garden gnomes tearing up your yard? Tired of the loud music – and little tiny soda cans & candy wrappers they leave behind? Get a Cat (this guy oughta frighten them off).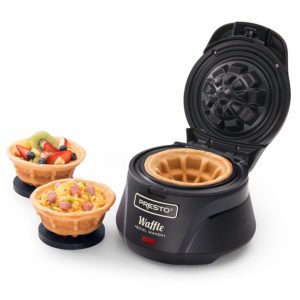 Ok, we're officially obsessed with waffles and this is seriously amazing. Add your favorite ingredients and make the best breakfast or snack bowls in minutes!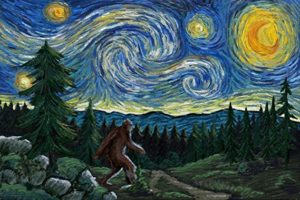 We can only guess that if Van Gogh lived in Big Foot Country, this would be his famous masterpiece!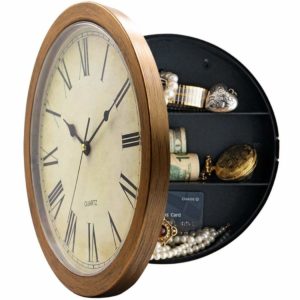 Hide your stuff in plain site with this Retro-Style working wall clock and it's hidden compartment. Easy access and keeps items out of reach of kids and other shorter humans.
If you like things a little off center from the norm, we're happy to present this wall/tabletop clock – in all its glory.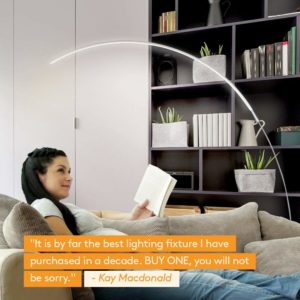 When you want a warm, natural spotlight that some have compared to a skylight – you want this contemporary, minimalist arc floor lamp.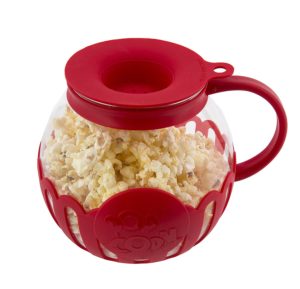 This cute little snack size microwave popcorn popper is designed for less burning and makes it easy to check if your popcorn is done. Family-size popper is available too!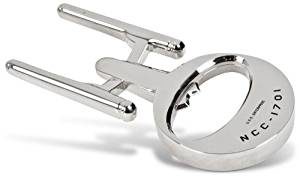 For the thirsty Star Trek geek. (Yep, watching Big Bang Theory reruns again…).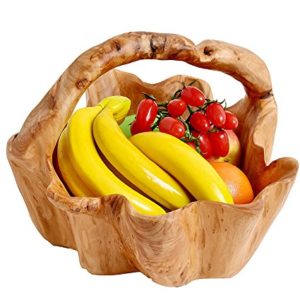 Baskets are handy for many things – one of which is making fantastic gifts! Mother's Day is approaching and Mom can use for her crafts, food or as decoration. Made with root wood, the unique style of mother nature make these practical and artistic.
Every once in a while we "play it straight", and this is one of those "whiles". Not much for scaremongering, but everyone should be prepared for disasters – both natural or man made. This extensive kit is emergency preparedness at an excellent price; something every family needs "just in case". When an emergency hits, store shelves will be bare – and what's left is subject to price gouging.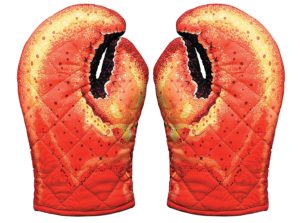 We're hungry. We want lobster. This is as close as we're getting today.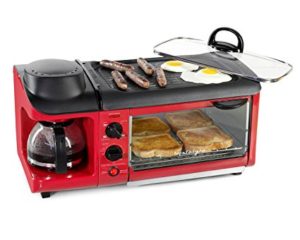 Why trash the whole kitchen to make breakfast? Save that for dinner! Better yet, make dinner with it too (it's not just for breakfast food). Use it anytime you need a griddle, toaster and coffee. Take it camping, use it in the dorm – perfect for singles.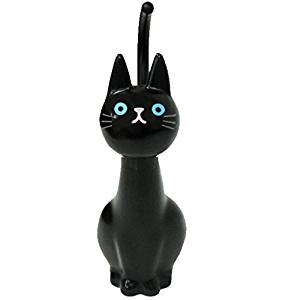 Crazy cat ladies – this one's for you! Cats follow you into the bathroom all the time, so this will look at home in there. Just make sure you clean the toilet bowl with the right cat. (The real ones tend to get a little pissy when wet…)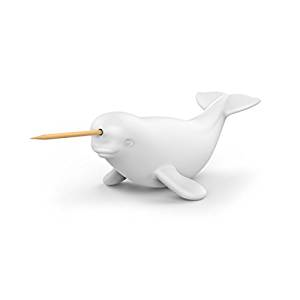 Because who can say "No" to a Narwhal Toothpick Dispenser?!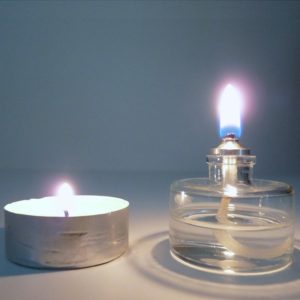 Even though you need functional candles, there's no reason why they can't be stylish. Refillable and unique – which would you rather have, the one on the left or the right? Right one it is!
Just add fruit and nothing else! Okay, go ahead and add chocolate…
HEALTHY GOODNESS: With Yonanas, you can instantly churn 100% frozen fruits to create a healthy dessert without additional fat, sugar or preservatives compared to other "ice cream" or "yogurt" like treats.

EASY & FUN TO USE: Transform frozen fruit into dessert in just seconds by simply inserting frozen bananas (or any fruit of your choice) into the chute and pushing down using the plunger. It's that easy and fun to make!
Unlike alarm clocks that wake you up with screeching sound, this clock hacks your circadian rhythm and helps you wake up naturally without any sound at all. By simulating the sunrise, your body should wake up gradually and more comfortably. However, if you want to set a backup audible alarm just in case, this clock has that too. No more waking up in the dark – while you are waking up in the dark! It also has a "dim to sleep" feature – as an extra added bonus.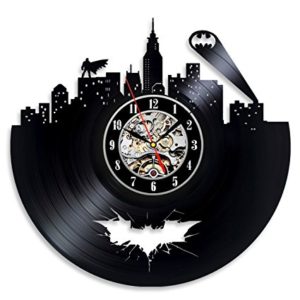 We all have a Batman fan who would absolutely love this clock, maybe it's you?..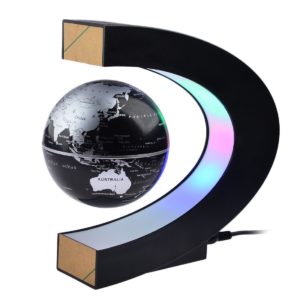 Great decoration for your home or office – LED lights create a cool effect when used in the dark.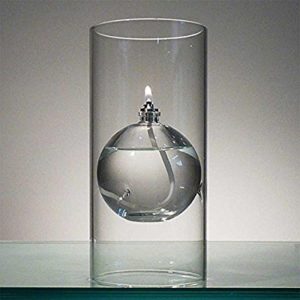 Get a little futuristic with this cool little oil lamp. This is definitely an attention-getter and burns over 16 hours on one fill.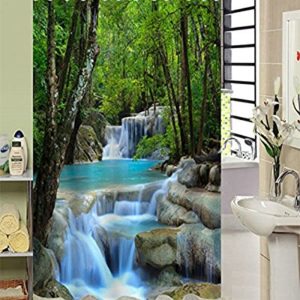 "Pretty up" your potty! You spend enough time in the bathroom, you may as well make it a scenic place to escape.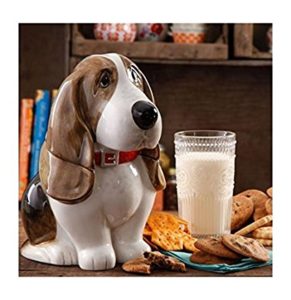 If you have cookies, you need this cookie jar – hims even looks like he's begging cookies from you (just like a real dog)!
Fill your home with scent and get a reusable Mason jar when you're done. Add the "suggestive" name on the label and you get a great conversation piece. Available in "Hot Buns", "Nice Melons" and the ever-popular "Smell My Nuts".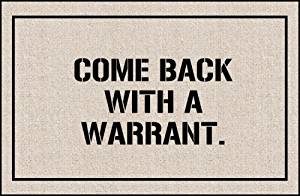 Maybe it's time to bring back doormats!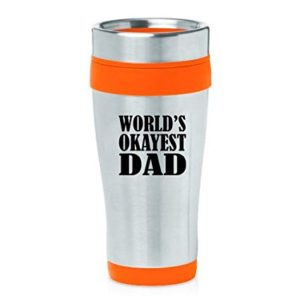 Show Dad how much you love him! Okay?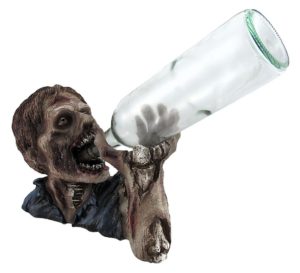 Never drink alone when you can drink with the undead.