Meet Roo!  Part Lab, Part Dork = Labradork.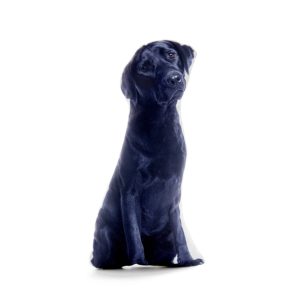 Get your own Roo!  Save on kibbles and treats, plays fetch just like Roo (which is not at all), hug him and NOT be covered in slobber – and he'll sit on the couch or lay in bed all day, just like Roo…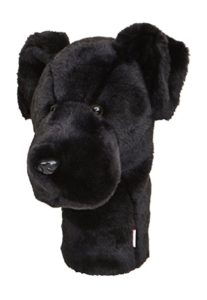 Get yourself a golfing buddy – only without having to chase him and constantly yell  "drop the ball/gimme the ball"…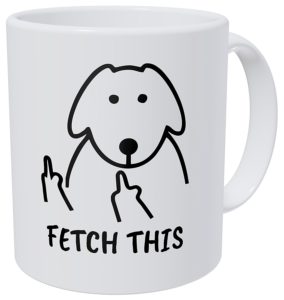 Cute nose, floppy ears and an attitude problem. Roo gives the okay to post this one!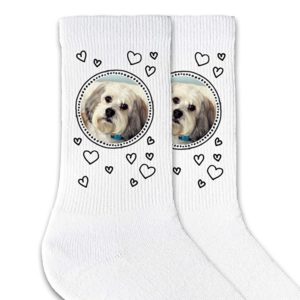 They're constantly underfoot – maybe they really do belong on your feet. Get your pet's face on a pair of socks – maybe this will be the pair of socks that Roo won't destroy!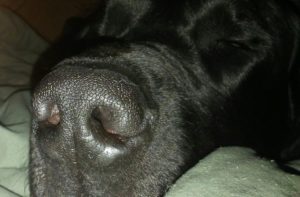 A Roo nose for your enjoyment…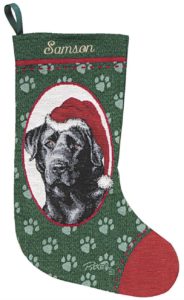 For all the "good boys" and "good girls" who made Santa's list this year – fill with lots of their favorite treats!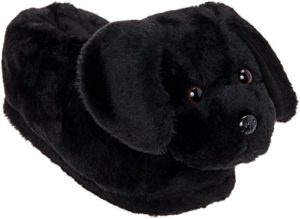 Are your "dogs barking" after a day on your feet? You need to slip on a pair of floppy ears.  These get Roo's Seal of AppROOval (yeah, I know *groan*)…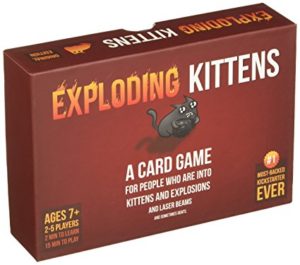 Not quite a Lab thing, but Roo's ears perked up with the mention of Exploding Kittens.  Not that he would endorse exploding kittens in real life (he's perfectly happy with sniffing their butts instead).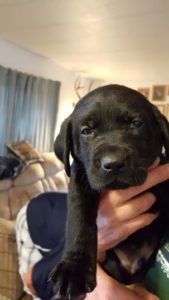 In honor of Roo's 2nd Birthday, here is his baby picture!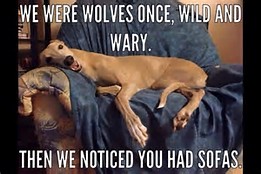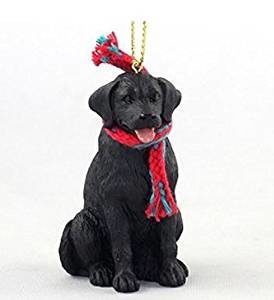 Roo sees a Christmas Tree as a fancy stick to play with – sooo no tree for us. Thinking of Plan B… Any suggestions as to where to hang this little guy?
A little slobber never hurt anyone – makes a mess, but never really hurts.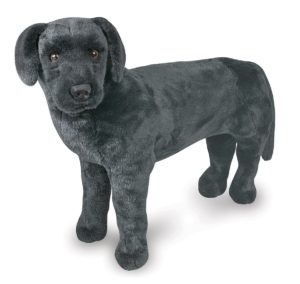 Not enough nonsense in your life? Here's the remedy – get your own Roo.  He's over two feet tall and doesn't pee in the house.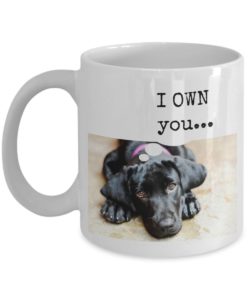 And the sooner we all understand this – the easier life will be.
A guy is driving around Oklahoma and he sees a sign in front of a house: "Talking Dog For Sale." He rings the bell and the owner tells him the dog is in the backyard.
"You talk?" he asks.
"Yep," the Lab replies.
"So, what's your story?"
The Lab looks up and says, "Well, I discovered that I could talk when I was pretty young. I wanted to help the government, so I told the CIA about my gift, and in no time at all they had me jetting from country to country, sitting in rooms with spies and world leaders, because no one figured a dog would be eavesdropping. I was one of their most valuable spies for eight years running.
"But the jetting around really tired me out, and I knew I wasn't getting any younger so I decided to settle down. I signed up for a job at the airport to do some undercover security wandering near suspicious characters and listening in.
"I uncovered some incredible dealings and was awarded a batch of medals. I got married, had a mess of puppies, and now I'm just retired."
The guy is amazed. He goes back in and asks the owner what he wants for the dog.
"Ten dollars," the guy says.
"Ten dollars? This dog is amazing. Why on earth are you selling him so cheap?"
"Because he's a damn liar. He never did any of that stuff."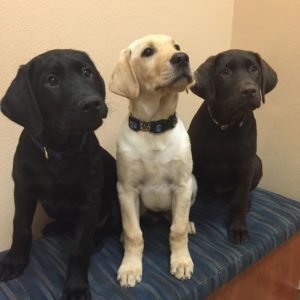 These are Roo's brothers getting puppy shots (about four months old). I don't care what breed you have – what are the odds of three puppies posing for a  perfect picture? (Please note Roo is not there – and that is why this picture does not include some vet tech getting pee'd on.)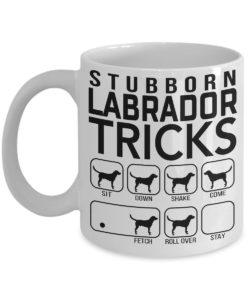 Those who live with Labs will understand…